Article originally posted on www.erieinsurance.com

(opens in new tab)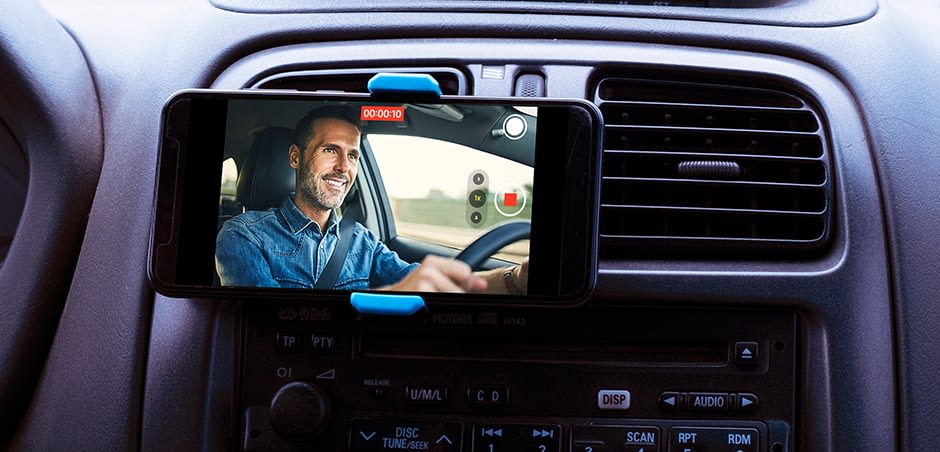 Everyone knows the dangers of texting while driving, but now there is another equally dangerous trend – vlogging while driving.
What is Vlogging?
A vlog is a blog in video form. Vlogging involves anyone talking to a camera mounted on their dashboard to create videos. While the behavior may seem safe because it's hands-free, an internationally recognized expert on distracted driving says it's anything but.
"The research is absolutely clear. Hands-free is not safe," said Paul Atchley, Ph.D., a professor of psychology at the University of South Florida, who has been studying distracted driving for more than 20 years. "It's your brain that's the problem, not touching a phone. And we know when your brain is engaged by a phone call – even a hands-free one – the risk for a car crash increases."
Erie Insurance showed Atchley several videos gaining buzz online – they show influencers looking back and forth between their camera and the road.
The answer, says Atchley, is that multi-tasking is a myth. People can switch back and forth between tasks, but can truly only do one thing at a time. And vlogging behind the wheel is extra dangerous because it encompasses all types of distractions.
"As a car insurer that wants everyone on the roads to be safe, Erie Insurance keeps on top of the latest driving trends," said Jon Bloom, senior vice president, personal products at Erie Insurance. "This one is particularly troubling because the people doing it probably think it's safe since it's hands-free."
Different Types of Distractions
Manual: Manual distraction is taking hands off the wheel.
Visual: Visual is looking at the camera instead of the road.
Cognitive: Cognitive distraction is "performing" for the camera instead of focusing on driving.
Learn more about the dangers of vlogging while driving in the video below.
There are no specific laws against talking to a camera mounted on a dashboard while driving, but 24 states and Washington, D.C. prohibit using hand-held cell phones while driving and 36 states and Washington, D.C. ban all cell phone use by novice or teen drivers.
Avoid Getting Distracted
Here are a few tips from Atchley to avoid distracted driving and help you stay safe on the road:
Put your phone in a safe driving mode to reduce distractions. For example, turn off notifications and set up GPS prior to heading out for turn-by-turn directions so you can avoid having to look down at your phone.
Listen to a radio show or a podcast. It will help keep you alert but your mind will automatically tune it out when it needs to.
Consider carpooling with another experienced driver to share driving duties and have a second set of eyes that can spot things you might otherwise miss. Conversations in a vehicle, not on a phone call, will ebb and flow with traffic demands.
Play verbal road games such as "I Spy" to keep your mind focused on the road and defensive driving.
Protect You and Your Car from Distracted Driving
Staying safe on the road is important. It's also important to have the right insurance coverage on your vehicle. Our independent Erie Insurance agents promise to be there to help you get insurance that you can be comfortable with – insurance that fits your needs and your budget. Contact us today.
ERIE® insurance products and services are provided by one or more of the following insurers: Erie Insurance Exchange, Erie Insurance Company, Erie Insurance Property & Casualty Company, Flagship City Insurance Company and Erie Family Life Insurance Company (home offices: Erie, Pennsylvania) or Erie Insurance Company of New York (home office: Rochester, New York). The companies within the Erie Insurance Group are not licensed to operate in all states. Refer to the company licensure and states of operation information.
The insurance products and rates, if applicable, described in this blog are in effect as of July 2022 and may be changed at any time.
Insurance products are subject to terms, conditions and exclusions not described in this blog. The policy contains the specific details of the coverages, terms, conditions and exclusions.
The insurance products and services described in this blog are not offered in all states. ERIE life insurance and annuity products are not available in New York. ERIE Medicare supplement products are not available in the District of Columbia or New York. ERIE long term care products are not available in the District of Columbia and New York.
Eligibility will be determined at the time of application based upon applicable underwriting guidelines and rules in effect at that time.
Your ERIE agent can offer you practical guidance and answer questions you may have before you buy.


A better insurance experience starts with ERIE.
Haven't heard of us? Erie Insurance started with humble beginnings in 1925 with a mission to emphasize customer service above all else. Though we've grown to reach the Fortune 500 list, we still haven't lost the human touch.
Contact Christopher Peters Insurance today to experience the ERIE difference for yourself.
Filed Under: Car Sense
|
Tagged With: Auto Insurance