Article originally posted on www.erieinsurance.com

(opens in new tab)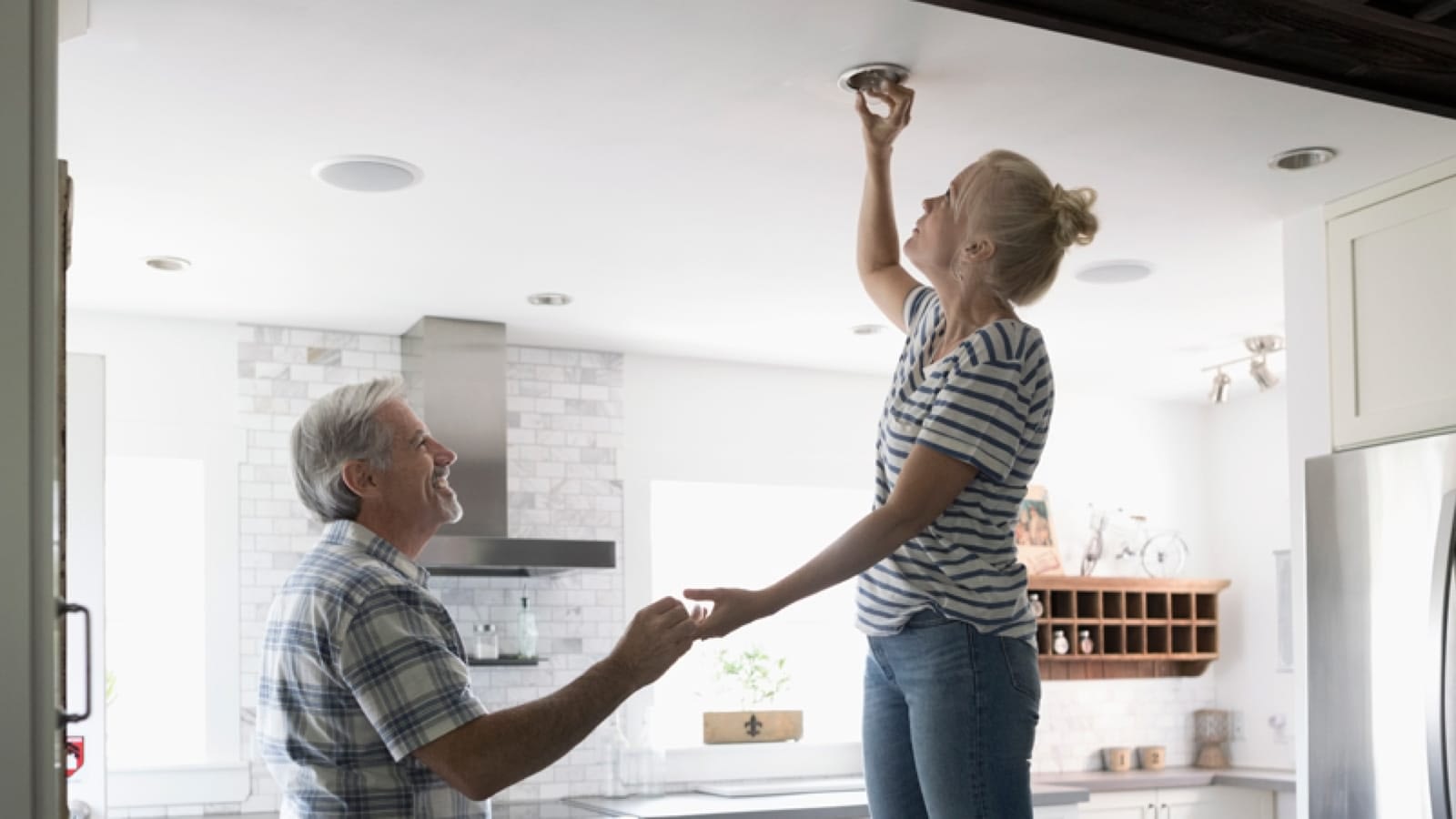 In the simplest sense, the lights in your house are there to help you see. But they're capable of so much more. Like your floor plan and color scheme, home lighting can also help set the mood and add character to the place you call home.
Professional and amateur home decorators alike go on about the value of a few well-placed lights. Yet many homeowners only think in terms of lamps and overhead lights.
Putting some extra effort into your lighting design can brighten up your daily tasks — or your next house party. Whether you're looking to update the kitchen, add a fresh coat of paint, or reduce your energy costs, many of these quick fixes will boost your home's value, too.
Here are some bright ideas to illuminate your living space:
Pick the right bulb. Make sure your bulb is the proper strength, shape, and size for your fixture. Then, choose a light shade that complements the room. Soft white bulbs have a yellow hue and are a great choice for bedrooms and living rooms. Bright white bulbs appear more white than yellow, which can work well in kitchens and bathrooms. The correct bulb choice helps fill rooms with the right amount of light and doesn't require any remodeling.
Add decorative lights. Add small lights underneath paintings or curios to bring attention to the decorations in your home. Some accent lights require hard wiring, but others can be plugged into the wall and hung right where you need them. (Want more inspiration? Check out this list of 5 stylish ways to display your kids' artwork.)
Light your stairs. Going upstairs in the dark can be dangerous. Consider adding some lights along your steps. The extra light will visually connect the floors of your home, while helping guests navigate their way through it.
Add lights in layers. Many homeowners rely on overhead fixtures to light up a room. But lower lights and lamps can make a space more usable and versatile. Add task lights, lamps, and more to create more lighting sources at a variety of levels.
Eliminate shadows. Poorly placed lights will cast subtle shadows. These can be especially inconvenient in places like the bathroom or kitchen. Make sure you light your rooms evenly so you don't create more problems than you solve. (Get more kitchen DIY ideas in our list of 8 easy and affordable ways to upgrade your kitchen.)
Add some color. Colored bulbs or shades can add a lot of personality to a room. Add a pop of color around certain spaces to accent or highlight a specific area.
Repaint your room. Trying to brighten up a dark room? The color of your walls will either reflect or absorb available light. You may be surprised how much a lighter shade of paint can brighten up a dark space.
Set the mood. Bright spaces are beautiful, but there are times when lower light is best. Installing a dimmer switch can provide the best of both worlds — allowing you to instantly adjust the feel of your room. It's a quick and easy job for an electrician. And with a little know-how, it's not a difficult DIY project, either.
Save energy. Energy-saving options can boost your home's value by 3-5%, according to Consumer Reports. Install smart technology and energy-efficient bulbs when possible to reduce energy consumption. LED light bulbs are becoming increasingly available and affordable. CFL bulbs are another eco-friendly choice – but they do contain gas, so know how to clean up properly if you drop one.
As much as the walls and windows make up your home, the lights bring each room to life. You improve your home to create the perfect environment for family and friends. Because home isn't just a place – it's a feeling, too.
At Erie Insurance, we get how important "home" is. And we're here to protect it. Contact your local ERIE agent to get the right coverage for your home and all that you've invested in it. Learn more about homeowners insurance from ERIE.

A better insurance experience starts with ERIE.
Haven't heard of us? Erie Insurance started with humble beginnings in 1925 with a mission to emphasize customer service above all else. Though we've grown to reach the Fortune 500 list, we still haven't lost the human touch.
Contact Christopher Peters Insurance today to experience the ERIE difference for yourself.
Filed Under: Home Sense